Reverse Mortgage Myths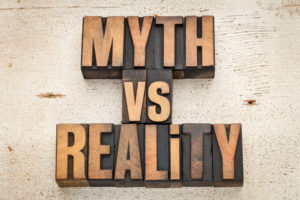 You have heard about reverse mortgages, but aren't quite sure if they're legitimate or a scam? Are you wondering if one is right for you or an older homeowner you know? This blog will talk to you about some of the reverse mortgage myths.
Reverse mortgages have become increasingly popular in recent years. As a result, many misperceptions have sprung up. Reverse mortgages can be a useful financial tool for older homeowners, but they're not for everyone. It pays to know the myths and facts. If you live in Colorado and are interested in what a Colorado Reverse Mortgage could do for you or a loved one, call Steve at: (877) 299-5500. He's got your back, and had a reverse mortgage on his own home!
Myth #1: A reverse mortgage works the same as any other type of home loan.
A reverse mortgage is a special type of loan for homeowners aged 62 and older that lets you convert a portion of the equity in your home into cash. But unlike a traditional home equity loan or second mortgage, you don't have to repay the loan until you either no longer live in the home as your principal residence or you fail to meet the obligations of the mortgage.
Myth #2: Most reverse mortgage borrowers use their loan funds for vacations and other fun things.
The truth is that most borrowers today use their loans for immediate needs, such as paying off their existing mortgage or other debts. Others want to supplement their monthly income, so they can afford to continue living in their own home longer. Learn more about ways to improve your budgeting and save money with Savvy Saving Seniors™.
Myth #3: Reverse mortgages are too expensive.
There are fees for taking out any kind of mortgage loan–appraisal, title fees and closing costs. You can normally pay for these costs as part of the reverse mortgage loan. Borrowers also must pay an upfront FHA mortgage insurance premium that can be as much as 2% of the value of their home, which can also be rolled into the loan. The advantage of this insurance is that you (or your heirs) don't have to repay more than the value of the home, even if the amount due is greater than the appraised value as long as you follow the rules. There are many factors to consider if you are thinking about using your home as a financial resource.
Myth #4: Reverse mortgages should only be used as a last resort.
It's never a good idea to make a financial decision under stress. Waiting until a small issue becomes a big problem reduces your options. If you wait until you are in a financial crisis, a little extra income each month probably won't help. Reverse mortgages are best used as part of a sound financial plan.
Myth #5: Reverse mortgages are for the poor.
During the housing boom, many older couples took out reverse mortgages to have a fund for emergencies and extra cash to enjoy life. In today's world, younger borrowers (often baby boomers and the wealthy) are turning to these loans to manage their existing mortgage or to help pay down debt.
Myth #6: A fixed rate reverse mortgage is always a good idea.
If you're like most homeowners, you've had a traditional 30-year home loan with a fixed interest rate. This allowed you to know how much you needed to budget for mortgage payments each month. However, this conventional thinking does not apply to reverse mortgages, which do not require any monthly payments. There are several drawbacks to HECM reverse mortgages with fixed interest rates.
These loans require borrowers to draw all of their funds out at closing, which means they will pay interest on a potentially large sum of money. This could use up your home equity very quickly.
The fixed rate option does not pay out nearly as much money to the homeowner. An adjustable rate HECM, on the other hand, gives borrowers the option to select a line of credit and only pay interest on what they use. The line of credit may increase over time if interest rates go up, giving borrowers access to more cash. Most reverse mortgages today are done under the ARM for obvious reasons.
Myth #7: Reverse mortgage counseling is a waste of time.
Deciding whether to take out a reverse mortgage loan can be challenging. It's hard to estimate how long you'll stay in your home and what you'll need to live there over the long term. Seniors are also often victims of fraud as a result. Federal law requires that all individuals who obtain a HECM reverse mortgage receive unbiased counseling by a HUD-approved counseling agency.
A trained counselor can help you understand the costs and features of different types of reverse mortgage, and evaluate the pros and cons of these loans for your situation. They will also discuss other options including public and private benefits that can help you stay independent longer. It's valuable to meet with a counselor as early in the process as possible. Contact Steve Haney at: (719) 434-3919 for the current list of approved counselors.
Remember: Steve has a revers mortgage on his own house! Call him today at: (719) 434-3919 to talk to him about your own reverse mortgage